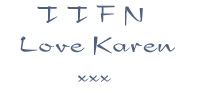 Excuse the signature being at the top but blogger seems to be playing up and I can't move it. Oh hum. Couldn't get on yesterday either.
Well I made some lovely cards for the shop, but, yes you guessed it. I forgot to take pics. What a numbty !? LOL.
Have had a pounding headache all week, so not done too much. Am hoping to get some done over the next few days as I'm off work until Wednesday due to a family bereavement.
Over the next few weeks am going to try and get my craft room sorted by emptying it and then adding more work area and cupboards. I really didn't realise how much stuff I'd got. Ribbons all over the place, bits of card spilling out onto the floor and buttons trying to escape the chaos. Yes it really needs a good tidy up LOL.
Well I'm off for now.
T T F N
Love Karen xxxx